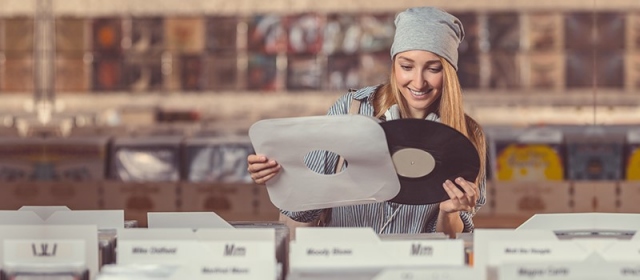 Though the modern digital music mediums have taken over the entire music industry by storm but there is no debate in saying that some classic music mediums particularly Vinyls are still pretty much in the mainstream and aren't still ready to ride off into the sunset just yet. The surprising fact is that the number of vinyl enthusiasts is increasing dramatically as more and more people are turning to classical music mediums.
The thing that keeps vinyl still alive even at this age is the unmatchable sound quality it offers. However, in order to enjoy the best possible vinyl sound quality, you must take good care of your disks. The problem with many Vinyl keepers is that they often don't take good care of the disk and end up damaging the sound quality. If you are interested in Vinyl, you must also learn vinyl storage and in this article, I am listing down 5 simple tips and hacks to keep your vinyl records safe and secure.
Clean Vinyl Records Before Putting Them in The Cases
An important thing that you must make sure is that you clean the vinyl before you insert them in the case. But always remember, Vinyl are sensitive creatures so don't use a T-shirt as it may damage the outer layers of the disks. There are specially designed tools available for the job.
If you are a vinyl enthusiast, don't hesitate in investing a few dollars on a good record cleaning brush as it is the best way to wipe off all the dust that appears on the disk. It may now be difficult to find a vinyl cleaning brush in your local neighborhood store, but they are easily available online. You can also opt for a vinyl-cleaning solution if your records require a thorough cleaning.
Keep the Records in the Album Jackets
Another mistake that people often make is that they place the vinyl naked while it must be in its jacket. When the record is not on the play and you are done listening, carefully clean the record with a brush and gently place it in the jacket. Carelessly putting your vinyl here and there will impact the sound quality as dirt will start to accumulate on the record.
Always keep the Vinyl Collection in an Upright Position
Do not place your vinyl in a horizontal position, I can't stress it enough. Always always place your vinyl in the upright position as it is essential for ensuring a good condition of the records. When you place the cases in slant, they are extremely vulnerable to damage as uneven pressures can result in cracks. The best practice is to use crate dividers for they keep the records firmly upright and ensure that there is no slanting.
Carefully Stack Your Records.
Now, this may sound a bit frustrating but the thing that even if the disks are in the jacket all time, they are at the risk of damage. The reason is that when the vinyl is stacked for an extended period of time, it can result in wrapping which may even lead to scuff marks and cracks. So, make sure that the records are carefully stacked and play them every once in awhile to make sure that the records are in their optimal condition.
Keep Them Cool and Dry
Vinyl keepers often take this for granted but it is very important that you place your records in a cool and dry place. Vinyl veterans recommend that the records must be protected from heat and direct sunlight. The ideal temperature is between 65-70 degree but you must also watch for humidity levels as higher humidity levels may also harm your records.
Owing to the fact that vinyl are tnder, brittle and soft, it is important to ensure the utmost care and prevent them against all sorts of scratches and rough surfaces. So if you are a vinyl lover, it's best to spare a few dollars on some quality vinyl cases to keep them safe and use them for a long period of time.